Brand, Websites & Collateral
Show Customers the Soul of Your Products & Company
Branding is More than Pretty Brochures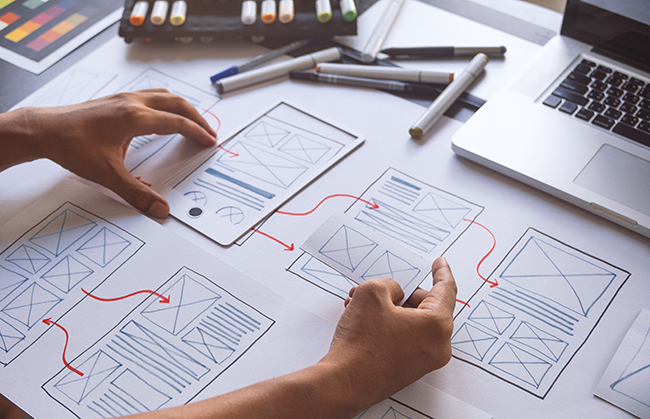 The faceless, monolithic corporation is a relic of the past. Even in a world of complex global supply chains and distributed work teams, more and more customers want to connect with the companies they buy from. People want to know who their leaders are and what the companies stand for.  Even among B2B buyers, a strong brand can increase awareness and foster trust for your company.
A strong brand is more than a nice logo and pretty collateral. It's greater than the cool pens and socks you give out at shows. Done well, a brand instantiates the value you deliver for your customers in a way that connects with them both empirically and emotionally. A great brand is rock solid not only in the logos, colors, and images you choose, but also in the voice, tone, and language that you use. It shows in the customer experiences you design and the products you make. Your brand values drive the kind of relationships you build with customers, employees, and vendors. 
Your brand is the soul of your business. We can help you bring it to life.


Our team's copywriters and designers can produce a complete suite of marketing and sales enablement tools for your team: product brochures, data sheets, solution brochures, company overviews, ROI calculators, trade show booths, banners, pitch decks, sales presentations, branded tchotchkes, corporate identity packages, business cards, and more.
Our copywriters are experienced with technology and are exceptionally good at creating  content for both technical and business decision-makers. We are exceptionally adept at explaining how technical features deliver business benefits. 

We can design and implement complete websites, blogs, landing pages and even partner portals.  Generally, we prefer building on the WordPress platform with the Elementor page builder so it is easy for our clients' marketing teams to add new pages and make routine updates in-house. We can also build websites natively in the Hubspot CMS. If you already have a web developer or an in-house programming resource, we're happy to work collaboratively with them.
Our team can integrate websites with leading marketing automation and CRM tools for automated lead capture and routing to sales for prompt follow up. We also work with development teams to integrate the public website with the company's software to support self-service signups, support ticketing, and usage tracking. 
Does your brand need a refresh? Talk to a CMO about your vision and your best options for realizing it.